Who Am I?
Name: Jerrica
Age: 18
Gender: Female
Height: 6'0"
Appearance: Short dark red hair, blue eyes, pale, average build
Passions: singing, acting, reading
Fears: abandonment, heights, spiders
Annoyances: stupidity, close-mindedness, prejudice
Where from: Fresno, Ca (the central valley...ugh)

These are a few of my favorite things
Actor/Actress: Susan Egan!
Color: Green
Interest: Musical theatre
Broadway Show: Cabaret
Broadway Character: Elphaba from wicked or Sally Bowles from Cabaret
Music: Folk rock and showtunes
Movie: Man of the Century

Personality Dialysis:
Maturity Level: mid
Leadership skills: high
Extrovert or Introvert: extrovert
Tidy or Messy: mostly tidy...but my room's a mess!



.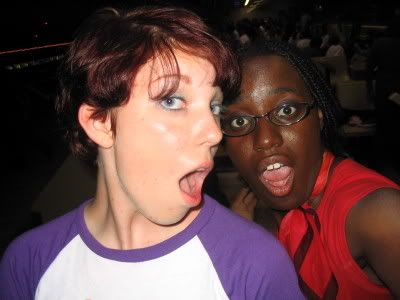 ^i'm the weirdo in purple